If your school/district license allows and you are using our instance of the Buzz LMS, you can add in lessons and modules from other courses within your catalog.
Adding Content using the IDEAL Digital Library
Open the Editor from the Main Menu
Select "Add" for the module or at the bottom of the course.
Select "Library"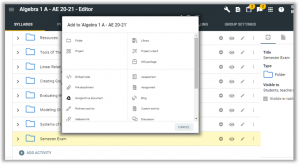 From this screen, you can:
Use the search fields and dropdowns to find the content you're looking
Select the library that you want to browse for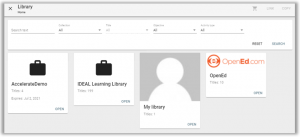 You can also search all libraries for a specific topic and filter by activity type if desired and click "Search".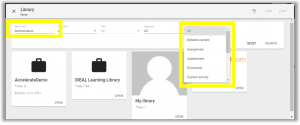 Select the library you wish to search.
"Preview" the activity and then check the box to add your desired activity to the cart.
When finished, select the cart in the upper, right-hand corner to review your selections or "Copy" to add the items to the course.
For additional directions, please see the following video for directions on how to add a lesson or module from another Accelerate Course or semester:
How-to video on using the IDEAL Learning Library.
Other how-to videos on content modification can be found by clicking HERE.