To Bulk update settings, you can navigate to the "Activity List" in the Editor tool. In this example, we will "Allow Late Submissions" for assessments in Range courses.
Note: If you are making these bulk changes to allow late submissions for Range courses, you will need to do this step separately for each category of lesson types in the course, including "Custom Activity" (our instructional lesson type).
Lesson types: Assessment, Assignment, Discussions, Custom Activty, etc
You will only have to do this once per semester course.
Go to "Activity List" from the Editor mode and filter for Assessments and/or Assignments: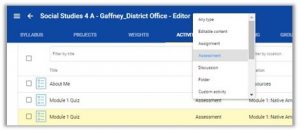 Check the Box in the upper right to select all, then click the pencil in the upper left to "Bulk Edit":

Indicate the changes you want to make (in this case allow late submissions). Indicate the number of hours/days/weeks you want to allow late submissions. Check the box indicating that these changes are permanent and then "Update":