Curriculum Updates
New Getting Started Videos Facelift Coming:
Good news our videos located in the Getting Started lesson of each course's Resource folder as well as the How-to videos on our Learning Coach resource site have a fresh look. Changes were made to address the following:
Changes in how PDFs across all devices can save work automatically without the need to download first.
Reflect an approach that addresses that not all school programs address policies and procedures in the same way. The videos address some best practices but always encourage students to follow their teachers' instructions always.
Include some new points of emphasis:

Importance of keeping pace
Taking notes using the Buzz tool
Submitting a variety of assignment types
Submitting files rather than Google Drive links to allow for tracking growth over time
If programs prefer students still have the ability to submit through the Google Drive option, providing best practices and flexibility is the goal.
Tips and reminders for attending live synchronous sessions
Be sure to check out the new videos when they are released. Understanding how to work within the platform and in the distance learning environment is critical to students' success.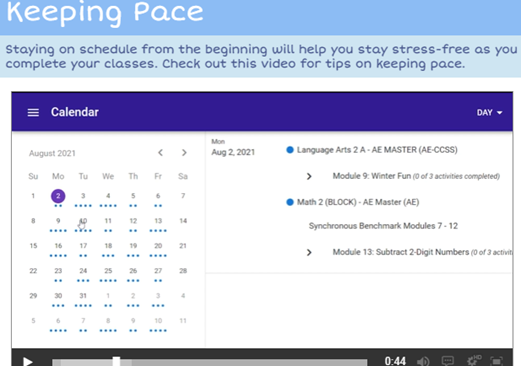 Quality Matters Course Approvals – Quality does matter to Accelerate Education! Accelerate Education is pleased to announce that the below courses have been approved by Quality Matters. Quality Matters is the internationally recognized leader in creating online course design rubrics and guidelines.
Algebra 1
American History
Biology
Language Arts 10
Physics
World History
We are actively working to get more courses approved and will keep you updated!