For a teacher:
If a teacher wants to see past student activity in their course, they can access this by modifying their Gradebook Display Options in a given course. To do this, navigate to the Gradebook and click on the gear icon in the upper right. That will bring up the Gradebook Display Options window. Select Show inactive enrollments.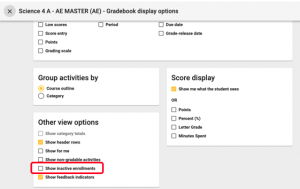 For an administrator:
An admin may pull a report from the domain Reports Menu to see a student's past grades.
Login as an administrator and select the Reports Menu.
Go to the Students tab in the upper navigation and select the Single Student Performance report. This report will give you activity and/or grade data for a single student across all of their courses, and it can be set to include past/completed enrollments.