Clipboard
 The Clipboard Tool is always available in the toolbar and you can assign activities, award badges, assign tasks, and message students quickly and easily based on their needs. This is an easy way to adapt on the fly; you can even sit with a student or group, discuss what they are trying to accomplish, and develop and assign next steps and tasks right in Buzz with them
Open the Clipboard from the toolbar or Main Menu.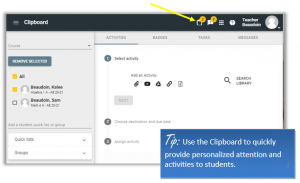 In this tool, you can:
Create and save Quick Lists of students, so you can easily engage with those groups later.
Click Activities to create personalized activities for individual students or groups.
Click Badges to reinforce good performance.
Click Tasks to create simple, personalized tasks for individual students or groups.
Click Messages to quickly communicate with individual students or groups.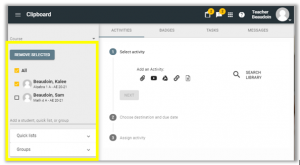 To add students while inside the Clipboard, do any of the following:
Type the student, group, or list name(s) into the Add student, quick list, or group field and select the desired recipient(s) from the autofill dropdown.
Expand Quick Lists and click the plus sign next to the list(s) you want. Expand Groups and click the plus sign next to the group(s) you want,
Assigning Activities Using the Clipboard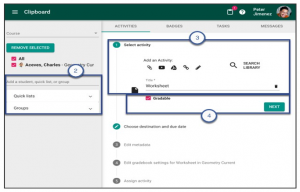 The Clipboard walks you through the process of assigning supplemental activities to individuals or groups:
Open the Clipboard tool from the toolbar or Main Menu; the Activities tab is open by
Add the student(s), Quick Lists, and/or Groups to whom you want to assign the activity using the panel on the left (How do I add students to the Clipboard?).
Add activity content in one of the following ways:

Choose from the options under Add an Activity; you can upload a file, link a video, add a Google Drive document, link a website, or create an activity with a rich-text.
Click Search Library, which allows you to choose content from other Buzz courses or external sources to which you have

Indicate whether you want the activity to be Gradable and click
Indicate the desired Grading Period (if enabled in your domain). the desired destination folder in the Syllabus, and the Due
Click Next.
If you clicked the Gradable box, you could edit the following settings:

Weight in category
The desired Score entry model: Points, Rubric, Percentage, or Letter Grade
The appropriate Grading category
Whether This activity counts as extra credit
The Passing score
Whether the Score can be dropped from the calculated course score
Whether to Include this activity's score in the final-grade calculation
Whether to Require a passing score for course credit
Click Next. Assign Activity.