Creating Groups
 A teacher can group students in the same class in various ways to meet different needs. Each different grouping is called a Group Set.
You can use groups to connect students according to performance, send group messages, assign group activities, create quick group intervention tasks, assign group grades, award group badges, and filter your list views with them.
Create and edit Groups
 To access, create, edit, and manage groups, open the Manage Groups screen:
Select the desired course from the Main
Open the People tool for that
Click Tools in the toolbar and select Manage

Select the Group you want to edit or click Add Grouping in the bottom left corner to create a new Group Set.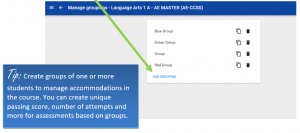 Once you create a group, you can manage course activity lists and lesson/exam settings for that specific group.