Accelerate's high school Biology and Physics courses (standard and honors versions) include several virtual lab activities that require students to log in to SmartScience. Students should refer to the instructions in the Resources folder of their course for important information on  how to access the virtual labs. (See copy below)
Teachers may request a login to the SmartScience labs as well using the same request access form used by students. Be sure to check the box indicating that you are a new teacher registering for a course.
While students complete the lab activities within the SmartScience site, all assignments are to be submitted within the corresponding dropbox assignment in Buzz.
Student Instructions – These appear in the Resources folder of the Biology and Physics courses: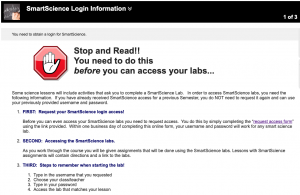 Once a student has completed the registration process, they will be able to access their virtual labs.
When the student navigates to the SmartScience site, they will be prompted for an ID. This is the student's username.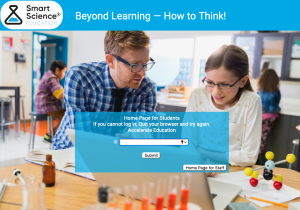 After inputting their username, the student will be prompted to select their class and then input their password. Note that students will only have two class choices – Biology Teacher and Physics Teacher. They should select the class associated with the course they are studying.