The most common reason for students to disappear from a teacher's grade book is due to the teacher grading or hiding the Participation assignment at the end of the course.
For many users, the Participation assignment acts as the "light switch" for the student's access to the course. This is due to the Enrollment completion setting in the course. In courses with automatic completion set up, grading, deleting, or hiding this assignment will cause the student to be automatically completed from the course and if the course is set up to automatically assign zeros, all grades will be zeroed out.
Teachers can still view the student's grades in the course by going to the grade book.
Edit Display Options

Check the box next to Show Inactive Enrollments – Save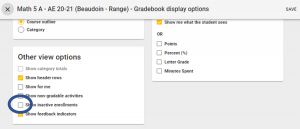 If the student needs to be reactivated in the course, the teacher will need to unhide or un-grade the Participation assignment and then the administrator will need to update the student's status back to "Active". If the course has been set up to automatically populate zeros, the teacher will also be responsible for deleting the zeros prior to the administrator reactivating the student(s).
It is important that the Participation assignment and the module containing it are never deleted, moved, or hidden from any course.