Why are my users getting a 403 "app_not_configured_for_user" error message?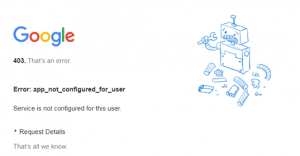 This error message generally signals one of two errors:
A user is attempting to login using a Google email address that is not managed by the district's Google account.
There is an error in the SAML app configuration. This error message will display when the value in the saml:Issuer tag in the SAMLRequest does not match the Entity ID value that was entered into the SAML Service Provider Details. Check to make sure that the Entity ID is configured correctly (note that it is case sensitive).