If your students are not receiving messages that you send to them through the Buzz communication center, or if you are not receiving messages that students send you via Buzz, it's possible that the messages are being filtered by your district's email servers.
When messages are sent from the communication center, the will display the sender's name and have a reply-to address of the sender's email, but the message will be delivered from mailer@agilix.com. Below is a sample of how the message will display in the recipient's inbox: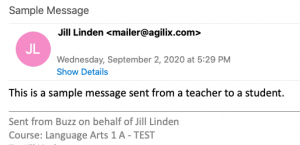 If messages from the Buzz platform are not being delivered, you may need to work with your IT department to white list mailer@agilix.com on your email servers.
Districts using Accelerate Education teachers should also white list the following domains in their email servers:
@accelerate.education
@accelerate-academy.net