When you login to Buzz as a teacher, you should see course cards for each of the courses that you have been assigned to as a teacher. If you do not see a course card for one of your sections, here are some troublshooting tips to figure out why:
Enrollment Dates: You will only see course cards for courses in which you are actively enrolled. If you have been enrolled in a section with a future start date, you will not have access to the course via your home page until that start date. Similarly, if your enrollment in the course has elapsed and you are past your enrollment end date, the course will no longer appear on your home page (though you can still view past courses by selecting "view past courses" from the Manage Courses menu). Check with your domain administrator if your enrollment dates need to be adjusted.
Hidden Courses: Often times, teachers may elect to remove course cards from their home page to help them focus their attention on their live student sections. If you are missing a course on your home page, check to make sure that the course isn't simply hidden from your view.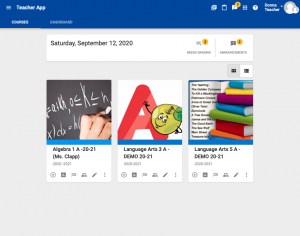 Select the Manage Courses icon and then choose View Courses from the menu.

From here, you can add or remove any course from your home page view by simply selecting (or deselecting) the Hide option.