Target Audience: Administrators (Buzz)
Traditional schools have specific policies and procedures associated with the closing of a given grading period. The same is true when ending a semester course using a digital curriculum. At the end of each semester we host:
View our recorded webinar here if unable to attend live.
Primary Role of the Administrator:
Communicate the following to students and families:

Clear end date, including policy for extensions.
A clear policy on missing work. Will zeros be assigned?

Communicate the following to teachers (if using district teachers):

District-planned approach to the participation assignment.
Approach to work not completed:

assign zeros (default process)
if zeros should not be entered, teachers need to exempt those assignments prior to grading the participation assignment.

Deadline for completing grading within Buzz.
Deadline for adding grades into the school SIS (if teachers are responsible for this process).

Verify all students and teachers have been marked as Completed or Withdrawn from the course.
If the end of the year – work with Accelerate Education staff to archive courses and prep for the next year.
Using Accelerate Education Teachers:
A buffer of at least 72 hours (excluding weekends and holidays) is needed between the student's enrollment end date and when all final grades may be posted.
Example:

The students' end date is on a Tuesday.
Teachers have 72 hours to grade work, so all grades should be posted by end of the day Friday.
Although the grade-out process may occur in less time, that cannot be assumed.

Teachers complete the grade-out process under one of these two conditions:

The student submits the participation assignment.
The student's end date has passed.

Zeros are automatically added to any assignment not completed.
Semester End Guide & Checklist: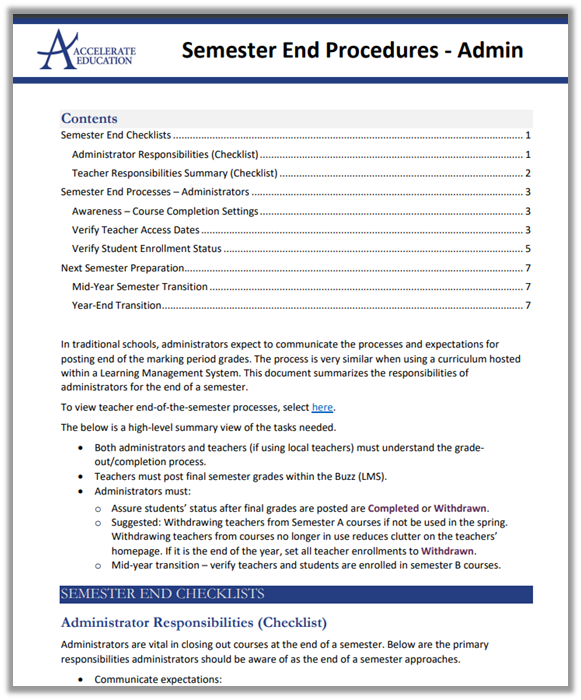 Related Articles:
Teacher Semester End Procedures
Tags: grade out, gradeout, final grades, semester transition, admin